Alzheimer's & Dementia Care
Preserving Dignity With Our Compassionate Alzheimer's Care Team
An Alzheimer's or dementia diagnosis can be a devastating blow for a family. Caring for a loved one who has a cognitive disorder presents a unique set of challenges that must be met with patience, love, and acceptance. The professional care team at Certified Home Care of Georgia has been trained and has a unique understanding of the physical and emotional strains that caring for a loved one with Alzheimer's disease presents, and we can help!
Our Alzheimer's and Dementia Home Care Services are designed to provide in-home care assistance providing proper nutrition, exercise, cognitive and engagement to ensure that your loved one receives the care he or she needs along with stimulating activities and social interaction that enhance the quality of life.
Our Alzheimer's and Dementia Home Care services focus on maintaining the client's dignity and independence throughout the course of the disease.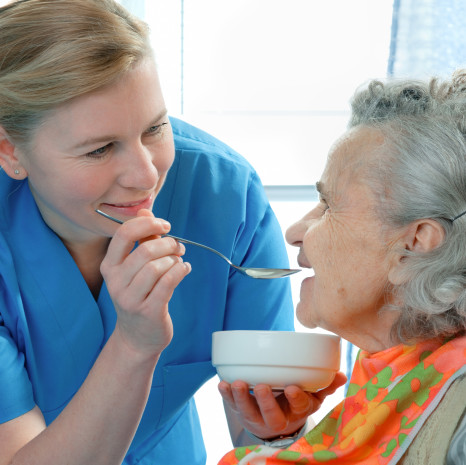 Here is one of our success stories:
Lynda B. Vermont

After college, I moved to Vermont got married and have a family of my own. Mom and dad live in Lawrenceville Georgia where I was born. My parents would visit every year until Dad took sick and Mom had to care for him, it was my time to come home for holidays and birthdays, and that I did. I talk to mom every day on the phone and she makes it seem everything was okay.  The last doctors visit dad was diagnosed with Alzheimer's, mom and I had figured he was getting senile, but didn't think it had progress to Alzheimers as my grandfather had the same diagnosis. Mom assured me that everything was great until I came for Dads birthday.

Mom could no longer manage but didn't ask for help, the house was very unorganized and cluttered which was very unlike my mom. Dad wasn't getting regular showers and the garbage was not going to the street, the entire back porch and yard was a mess. mom had missed a few doctor's appointments for herself but was just concentrating on dad.  

My husband and kids flew back home and I extended my stay to search for a service that would help my parents.  I called up three agencies and interviewed them and I picked Certified Home Care of Georgia. It is now a year since we have been saved by Certified Home Care of Georgia, we have three caregivers because we have 24/7 care and the same caregivers are still with us, yes we have a favorite caregiver which I won't mention.  I am able to communicate with the caregivers, my mom, and the office staff. I am happy because mom is happy. Great service!



Our In-Home Care Services can include:
Bathing, dressing and hygiene assistance
Assistance with walking and exercise
Light housekeeping
Meal planning and preparation
Errand running and shopping
Medication supervision and management
Supervision of home maintenance
Home organization
Companionship
Engagement in games and stimulating activities
Personal escorting to events and outings and more
Our Alzheimer's and dementia home care services are available in the home, one-on-one care at an assisted living facility, at a nursing care facility, or wherever your loved one calls home. Family caregivers may also benefit from our respite care services that can help them rest and recharge while ensuring their loved one receives the care and attention he or she needs.
Contact the senior care experts at Certified Home Care of Georgia for more information about our Alzheimer's and Dementia Home Care services in Atlanta and throughout Northern Georgia. 770 635 8042

We Also Serve Those In Need Of: